"Caldwell & Gregory has always been very professional in our dealings, they have lived up to our agreement and gone above and beyond words on paper. The service is outstanding and our Service Technician is a part of our family."

Kathy Tidwell
The University of Mississippi
"It is refreshing to not have to worry about laundry service; that is to say, I don't have to worry about whether or not Caldwell & Gregory is doing the job. My experience working with your company has shown me that you and your people can be trusted to do the right thing."

Anthony Harvey
Clemson University
"Your staff has exhibited pride in service; providing immediate response time and a superior quality of customer care. Your technicians are well-groomed and always in uniform. They check-in with us every time they come on campus and we always know what they are doing."
Jerry L. Bartley
Alabama State University
"The folks at Caldwell & Gregory made some big promises and we were a bit nervous given that we were to be one of your first universities in Texas, but our anxiety was completely unfounded. You have delivered on all your promises and exceeded all our expectations."
Thomas Martin
Texas A&M University – Kingsville
THE COLLEGE STORY
Campus Laundry Done Right
Let's face it — doing laundry should be as simple and painless as possible, especially for busy college students. We take a consultative approach with university administrators and Residence Life teams to determine each school's specific laundry needs and then design a custom program for your students.
Our campus laundry programs maximize value using creative features such as payment platforms, a laundry monitoring mobile app, RA training, student laundry education, creative contests, and intuitive administrator tools.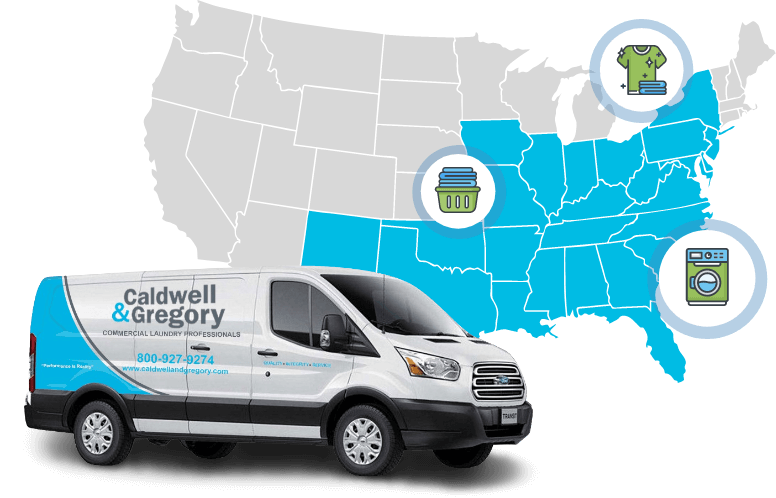 OUR LOCATIONS
Locations We Serve
At Caldwell & Gregory we currently serve 25 states and Washington D.C. We are committed to providing the best service possible throughout each location.
Our Service Benefits
When you partner with us, you can enjoy several key service benefits from our program. These include:
Preventive maintenance: Our team is here to provide ongoing service and help prevent equipment downtime for your entire laundry system.
Live dispatch: With our live dispatch service, you can get the assistance you need right when you need it.
Personalized service: We personalize each solution to fit our clients' precise needs, so you can be confident you'll get a tailored laundry management program.
Learn More About Our Solutions
With support from Caldwell & Gregory, you can optimize your laundry management systems, maintaining cost-efficiency and productivity. We stand out for our exceptional customer service, and our team is here to support you with the best possible solutions for your unique situation. Contact us today to learn more about our custom solutions.